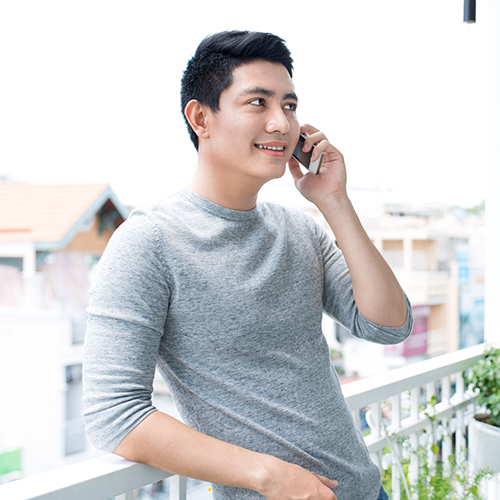 Home Signal Booster Installations Throughout Los Angeles
At Cell Booster Installations, we believe in redistributing working cellphone service to homeowners in Beverly Hills, Pacific Palisades, Malibu and Los Angeles. We take pride in our high-quality signal boosters for sale, and even more so in our home installation service. Our team has performed these installation services for several people and have become leaders in this industry. Everything we do is top tier work and nothing less. From our products to our customer service, we make sure our customers receive the absolute best from our company.
When you call us to boost your signal, we begin by doing a signal reading throughout your property. We look inside and outside of your house (or office), then present you with a proposal. Our expert suggestion will include our reading of your current cell signal and what it will take to improve it. We base our analysis on the 4 major carriers (Verizon, Sprint, T-Mobile and AT&T). Our installers recommend the equipment you will need to fix your dropped calls or slow data. This entire site survey is free, and includes a copy of our cell signal strength for your property.
If you decide you wish to improve your poor signal, we will charge you an overall one-time fee! With us there are no monthly payments. Everything about our service is efficient, especially the non-visible equipment. When we install your signal booster we will make sure any antennas, cables or parts are completely hidden throughout your home. Contact us right away so we can get started on improving your cell phone service!
Losing signals in buildings has been an issue ever since handheld cellular devices came on the market. Signal booster technology, also known as passive DAS, was developed to address the factors that cause poor cellphone reception. They're designed to amplify a weak outside signal and bypass any obstructions to provide a strong inside signal to an area that was originally not available.
Cellphone signal boosters use an outside antenna to capture the signal that exists outside of the building, a signal booster that strengthens the signal's strength, and inside antenna(s) to distribute the improved cell signal throughout the inside of the building. Cellphone boosters are used to stop dropped calls and fix weak signals in offices and commercial buildings up to 500,000 square feet.
Benefits of our signal boosters:
Improves poor LTE & 4G cell signals
Fixes bad reception for iPhones and Androids
Hidden equipment
Great for homes up to 25,000 sqft!
Great for offices up to 500,000 sqft!
Perfect for Real Estate Brokers and homeowners who wish to add value to a property
Will even improve signal in the garage and basement
Installation of boosters for EV Charging Stations
One-time fee! NO monthly installments!
New Arrivals
What is a Cell Phone Signal Booster for Mobile Vehicles and Boats?
Signal boosters for car, truck, van, RV, and boat boost cell signals for all US carriers and all devices. After purchasing the booster kit there are no recurring fees and installation is quick and easy. Once installed a cell phone booster will improve weak voice, text and 4G LTE data signals for any vehicle or boat in weak signal areas.
How Do Cell Phone Boosters for Mobile Work?
For vehicles and boats that frequently encounter areas with weak cell phone signals a cell phone signal booster can give drivers and passengers access to reliable cell phone signals. Cell phone boosters improve connectivity for calling, texting and 4G LTE data for streaming and applications. Cell phone signal boosters for mobile capture the signal that exists outside of the vehicle or boat, strengthen the signal and redistribute the improved signal inside of the vehicle to either one or multiple devices. Signal boosters are a simple to install solution that are commonly used to stop dropped calls, fix weak cell phone signals in boats and vehicles like cars, sedans, trucks, vans, fleets, RVs and more. California cell phone signal boosters are compatible with all US cell carriers, all cell phones and devices, and require no recurring fees after purchase.
Best Cell Phone Signal Booster for Mobile
Choosing the best cell signal booster for mobile, vehicle or boat depends on a few things – type of vehicle or boat, strength of the outside signal, number of simultaneous device users, price, and satisfaction suite of the manufacturer. California cell phone signal boosters work with all cell carriers in the US to improve voice, text and 4G LTE data reliability in vehicles, boats and any other mobile application. If there is a weak but usable signal outside of the vehicle, one of our cell signal booster will be able to give one or many simultaneous device users more reliable cell coverage inside the car, sedan, truck, van, fleets, boat or RV. California mobile boosters have the best price-performance value of any booster on the market and come with the industry's best
Contact Us
Do you have any questions or would you like to use our services? Contact us now for a free site survey at your residential or commercial property!
Contact Us
Do you have any questions or would you like to use our services? Contact us now for a free site survey at your residential or commercial property!