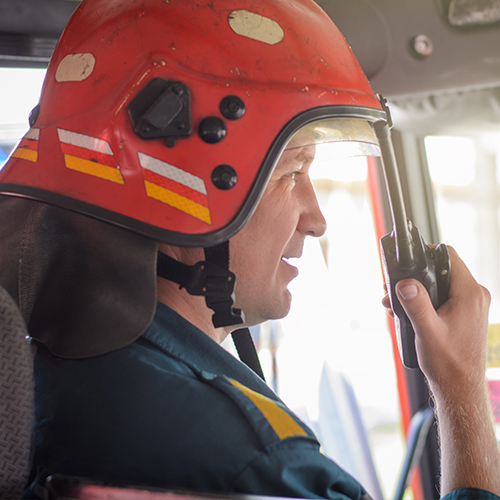 FirstNet installation throughout Los Angeles
Cell Booster Installations stands by public safety. We offer FirstNet
signals for crucial communication scenarios that deliver a consistent signal for First Responders and public safety officials. Our team proudly offers this public safety installation for customers in Beverly Hills, Malibu, Pacific Palisades and Los Angeles. During emergencies, communication is incredibly necessary. This is especially true in times when all power is lost. People who are in need of safety and are unable to call for help can quickly become a deadly situation. When critical information cannot be relayed, or when first responders aren't able to rescue people due to lack of communication, more lives are at risk. In these times of crisis, having a line of communication is needed. This is where we come in.
Our team is passionate in removing these concerns. Many times, rescuers rely on two-way radio communication that is installed inside buildings. New laws have been implemented in California which require all newly constructed buildings (after a number of stories) to be equipped with this safety hardware. Instead of worrying how to install it or where to find a safety signal that is up to par with correct codes, let us handle it for you. We will remove any concern you may have and replace it with peace of mind and a properly working public safety signal booster. If you would like more information or would like one installed in your new building, give us a call right away!
New Arrivals
What is a Cell Phone Signal Booster for Mobile Vehicles and Boats?
Signal boosters for car, truck, van, RV, and boat boost cell signals for all US carriers and all devices. After purchasing the booster kit there are no recurring fees and installation is quick and easy. Once installed a cell phone booster will improve weak voice, text and 4G LTE data signals for any vehicle or boat in weak signal areas.
How Do Cell Phone Boosters for Mobile Work?
For vehicles and boats that frequently encounter areas with weak cell phone signals a cell phone signal booster can give drivers and passengers access to reliable cell phone signals. Cell phone boosters improve connectivity for calling, texting and 4G LTE data for streaming and applications. Cell phone signal boosters for mobile capture the signal that exists outside of the vehicle or boat, strengthen the signal and redistribute the improved signal inside of the vehicle to either one or multiple devices. Signal boosters are a simple to install solution that are commonly used to stop dropped calls, fix weak cell phone signals in boats and vehicles like cars, sedans, trucks, vans, fleets, RVs and more. California cell phone signal boosters are compatible with all US cell carriers, all cell phones and devices, and require no recurring fees after purchase.
Best Cell Phone Signal Booster for Mobile
Choosing the best cell signal booster for mobile, vehicle or boat depends on a few things – type of vehicle or boat, strength of the outside signal, number of simultaneous device users, price, and satisfaction suite of the manufacturer. California cell phone signal boosters work with all cell carriers in the US to improve voice, text and 4G LTE data reliability in vehicles, boats and any other mobile application. If there is a weak but usable signal outside of the vehicle, one of our cell signal booster will be able to give one or many simultaneous device users more reliable cell coverage inside the car, sedan, truck, van, fleets, boat or RV. California mobile boosters have the best price-performance value of any booster on the market and come with the industry's best
Contact Us
Do you have any questions or would you like to use our services? Contact us now for a free site survey at your residential or commercial property!
Contact Us
Do you have any questions or would you like to use our services? Contact us now for a free site survey at your residential or commercial property!